NOBLE WOOLS FROM BIELLA & YORKSHIRE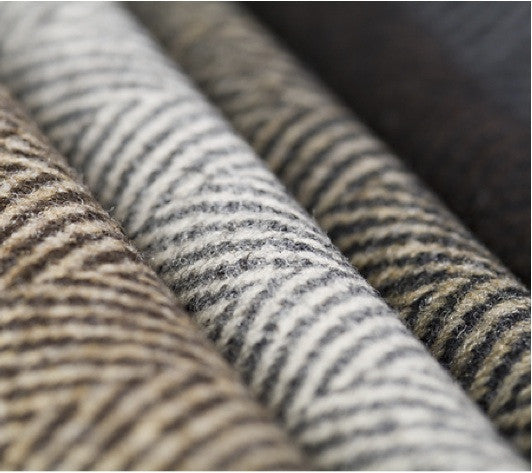 Special attention in Amanjeda collections is paid to the quality of our fabrics. When we choose our suppliers of wool, cotton and silk we pay careful attention to how and where they manufacture their fabric, and all our wool fabrics come from the best wool manufacturing areas of the world, such as the Biella region in Italy or Yorkshire in England. The reason these places became the centres of the wool industry is the special nature of the water from mountain rivers that gives an extra softness to wool when it is washed and treated.
For this reason our main suppliers of men's suiting fabrics are the world famous family owned Italian and French companies Ermenegildo Zegna, Loro Piana and Dormeuil.
Ermenegildo Zegna is one of the biggest global producers of fine fabrics and one of the biggest buyers of ultra-fine Merino wool. Ermenegildo Zegna founded the company in 1910 in Trivero in the Biellese Prealps.
The Loro Piana family started as merchants of wool fabrics at the beginning of the nineteenth century and the Loro Piana wool manufacturing was established in 1924 by Pietro Loro Piana, also in Trivero. In the post-war period Pietro's nephew Franco took over the company and moved it into the international high fashion markets.
Dormeuil was founded in 1842 by Jules Dormeuil who wanted to import English fabrics for French tailors. Dormeuil quickly became a design house creating its own range of fabrics. Today their production comes from factories owned and controlled by the Dormeuil company in Yorkshire.