2002 / costumes for the hosts of Eurovision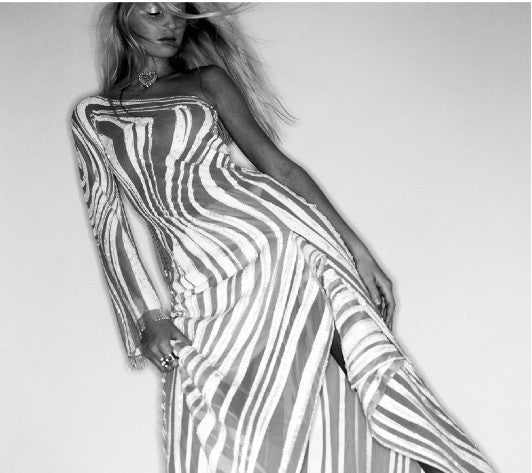 IN FEBRUARY 2002 DESIGNER KATRIN KULDMA WON THE CONTEST OF THE COSTUMES FOR THE HOSTS OF EUROVISION IN TALLINN
This was a movie alike project in collaboration with Marius Batten, Iir Hermeliin and Ain Nurmela. The hosts of the night were Estonia's loved singer and actor Marko Matvere and mezzo-soprano of Volksoper Wien Annely Peebo.
The amazing "Icedress" was created following the concept of Nordic Iceworld for the whole staging. The white icy lines were outlined by the designer, then prepared for printing on sky blue chiffon jersey. Finally the printed white areas were all handbeaded. To make this dress took three months. The result on the stage was similar to cold winter morning with sunshine and shimmery white snow and ice.  
The second set was inspired from the rich embroidery tradition of Estonia. The interpretations of the ethnic embroideries were set into luxurious combination with rich silk dupion.