2014 / WINTER COLLECTION PRESENTATION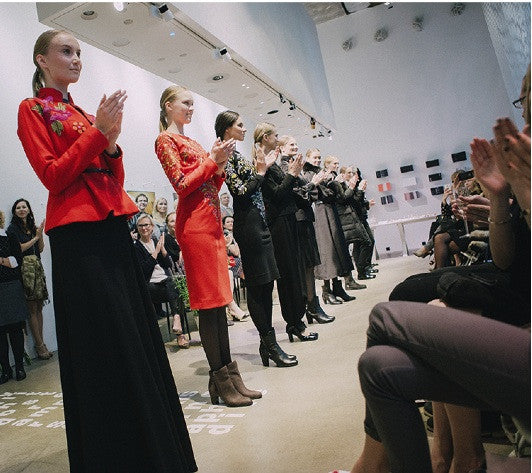 AMANJEDA by Katrin Kuldma FALL-WINTER 2014-2015  MILAANOS, RIIAS JA TALLINNAS
1993 aastal loodud Amanjeda moemärk seob endas luksusliku noodiga viimistletud kvaliteedi, modernse disaini ja täpse istuvuse, mis julgeb trotsida kodumaa piire.
MILAANOS - 2014 aastal valiti Milaano Moenädalal esitletud Amanjeda sügis-talv 2014/15 naiste ready to wear kollektsioon Dolce & Gabbana poolt kureeritavasse uute disainerite kontseptsioonibutiiki Piave37, Porta Venezia, Milaano.
RIIAS - Riia vanalinnas asuva butiigiga - Elifra, Smilsu 14 - alustasime edukat koostööd 2014 aasta suvekollektsiooniga. 2014 -15 sügis-talvist kollektsiooni esitlesime Riias 21. augustil. Kollektsioon sai publiku sooja vastuvõtu osaliseks. Juba esitluse eelsel päeval said värske kollekstiooni esimesed mudelid omale uued omanikud Moskvast.
TALLINNAS - 5. septembril saab valgusgaleriis Prolicht näha Katrin Kuldma disainitud Amanjeda uue sügiskollektsiooni sportlikku ja mahedates valge betooni toonides osa - "White Concrete". Esitletavas kollektsioonis kohtuvad maailma kangaparemik, sportlik luksus ning  minimalistlikult funktsionaalne vorm.
"White Concrete" on kollektsioon, kus koloriit ja funktsionaalsus on inspiratsiooni ammutanud valge betooni tundlikust struktuurist. Arhitektuuris kõrgelt hinnatud valge betooni kõrval mängivad ka seekordses Amanjeda kollektsioonis kandvat rolli parimad kashmiirid, puuvillad, siidid ja bambuskangad. Olemuselt on nii valge betoon kui kollektsioon "White Concrete" luksuslikud, ent vormilt funktsionaalsed ja minimalistlikud.
"White Concrete" kontseptsiooni parimaks esitluspaigaks on valgusgalerii "Prolicht" valge betoonsaal. Prolicht'i kompromissitus lähenemises valgusele peitub hingesugulus Amanjeda kollektsioonidega.
"Armastan vastandeid – minimalismi ja ekspressiivsust, õrnust ja tugevust, nii kombineerin ka kollektsioonides funktsionaalsust ja glamuuri, arhitektuurset minimalismi emotsionaalse värvidemänguga. Muhu tikandite hõõguv koloriit ja ülevoolav vorm on mind alati võlunud. Sel sügisel olen mõnusaks igapäevaseks kandmiseks mõeldud kollektsiooni jaoks ammutanud inspiratsiooni valge betooni tundlikust struktuurist, nii on emotsionaalselt hõõguva koloriidiga kõrvuti juskui kivisse raiutud mustrid."  K. Kuldma
IN SEPTEMBER 2014 THE AMANJEDA WINTER COLLECTION "WHITE CONCRETE" WAS PRESENTED IN THE LIGHT GALLERY PROLICHT
The Amanjeda winter collection designed by Katrin Kuldma was sporty, relaxed, in white concrete shades. The collection was a meeting place for the world's best fabrics, sporty luxury and functional shapes.
"White concrete" is a collection where the white concrete's delicate structure has been the inspiration for coloring and functionality. Besides white concrete which is highly valued in architecture, the main focus in the Amanjeda winter collection is also on the world's best cashmere, cotton, silk and bamboo fabrics. The nature of the collection is luxurious yet functional and minimal in shape.
The best place for the presentation of the collection "White concrete" is the light gallery "Prolicht" with its white concrete hall. The uncompromising approach at Prolicht holds the feeling of soulmates with the collections of Amanjeda.