Amanjeda Casa, Loro Piana Interiors, Ultima Thule Galerii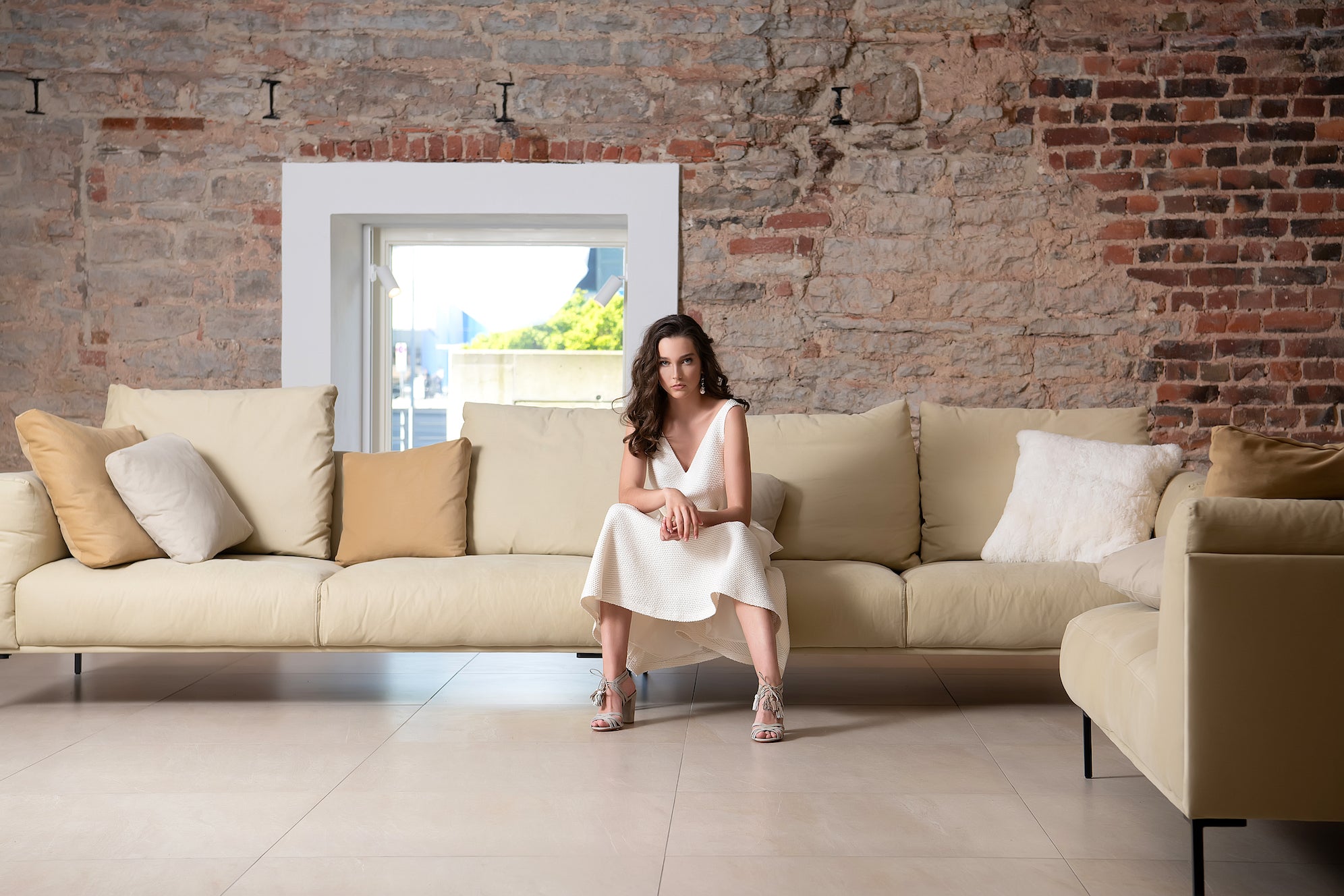 AMANJEDA by Katrin Kuldma rõivakollektsioonid on tuntud oma unikaalse esteetika, funktsionaalsuse ja ülikvaliteetsete Biella piirkonna villatootja Loro Piana kangaste poolest. Neidsamu väärtuseid kannab ka AMANJEDA Casa
sisustuskollektsioon.

AMANJEDA CASA DIIVANID & SISUSTUSTEKSTIILID

AMANJEDA Casa pehme mööbel valmib koostöös Eesti ja Itaalia mööblitootjatega. Ühendatud on maailmatasemel vabrikute tehnoloogilised võimalused, disaineri visioon funktsionaalsetest ja elegantsetest proportsioonidest ning maailma tippklassi kangad. AMANJEDA Casa kollektsioon pakub modernselt luksuslikke lahendusi sisustustekstiilidele ja pehmele mööblile.

AMANJEDA CASA KOOSTÖÖS LORO PIANA INTERIORSIGA

AMANJEDA Casa sisustustekstiilid pärinevad sarnaselt rõivakollektsioonidega peamiselt Loro Piana Interiorsilt. Loro Piana Interiorsi kollektsioonide kõrgeima kvaliteediga materjalidele on iseloomulik naturaalsus, pehmus, särav ja tundlik värvigamma ning vastupidavus. Valikus on kvaliteetsed puuvillased ja linased, luksuslikud villa- ja kašmiirkangad ning erakordne ja unikaalne lootoslillest valmistatud kangas. Amanjeda on Loro Piana Interiorsi esindaja Eestis. Loro Piana Interiorsi kollektsioonides kasutatakse ainult looduslikke ja eksklusiivseid kiude, nagu kašmiir, vill, angoora, siid, lina ja puuvill. Kollektsioon pakub suurt valikut sisustuskangaid: 30 artiklit ja enam kui 300 värvitooni. Kvaliteetsed naturaalsed
sisustuskangad on erakordselt kaunid ning ajas vastupidavad. Lisaks kangastele kuuluvad kollektsiooni rafineeritud värvides ja toonides kõrgkvaliteetsest villast ja kašmiirist luksuslikud pleedid.
BIELLA MAXI / 372x105, with Loro Piana Interiors
BIELLA
diivan, tugitool, lamamistugitool ja tumba

BIELLA on AMANJEDA Casa kollektsiooni modernse stiiliga diivanite, tugitoolide, lamamistugitoolide ja tumbade mudeliperekond. Minimalistlikule õhulisele vormile loovad mõnusalt mugava stiili vormihoidev suletäidis ja vastupidavad naturaalsed kangad või nahk. BIELLA mudel on välja töötatud koos pikaajaliste traditsioonide ja teadmistega mööbliinseneridega. Diivani konstruktsioon on kombinatsioon puit- ja metallkarkassist ning tugevast vedrupõhjast. BIELLA mudel on ülimugava istumiskõrgusega ja suure valiku erinevate laiusmõõtudega.

BIELLA kollektsiooni kuuluvad mudelid mõõdutüüpides MINI, MIDI ja MAXI. Kahekohaline BIELLA MINI valmistatakse laiusega 200 või 250cm, kolmekohaline BIELLA MIDI laiusega 240 või 285cm ning suurejoonelised neljakohalised diivanid BIELLA MAXI laiustega 312, 376 või 432cm. MIDI ja MAXI mõõtudes diivanid on erinevate nurgavõimalustega, BIELLA MIDI nurga pikkuse võimalused on vahemikus 146-320cm, BIELLA MAXI 260-320cm. Kõiki diivanimudeleid ja tugitooli BIELLA ARMCHAIR saab tellida sügavustega 85 või 105cm. Kitsamad ja laiemad variandid on olemas ka lamamistugitoolile ja tumbale. 

BIELLA mudelil on üle 50 erineva vormi ja mõõdu.

Modernne vorm, kõrgetasemeline tehniline teostus ning läbimõeldud esteetikaga disain koosluses maailma tippkvaliteetsete kangastega on loodud tõelistele disainigurmaanidele. Diivanid valmivad eritellimusena, iga kodu jaoks luuakse personaalne vormi, materjali ja värvivilahendus.
Amanjeda Casa luksuslikud diivanid on eksponeeritud Ultima Thule Galeriis. Ultima Thule Galerii sisearhitektuurse projekti autoriteks olid Katrin Kuldma ja Külli Tael. 
AMANJEDA Casa is created to enable Amanjeda's customers to furnish and 'dress' interiors with the same objectives of refined quality and attention to details they usually accomplish when dressing themselves.



AMANJEDA CASA SOFAS & TEXTILE ELEMENTS

AMANJEDA Casa soft furniture is created in collaboration with the Estonia's top level furniture producers. Modern technolgy, designer view to luxurious proportions and the world's best fabrics are connected to meet the most demanding customers needs for soft furniture.


WITH LORO PIANA INTERIORS

AMANJEDA Casa interior textiles are supplied by the best fabric producers of the world, the most important partner is Loro Piana company from North Italy, Biella. Amanjeda is the representative of Loro Piana Interiors in Estonia. The Loro Piana Interiors collections use only natural and exclusive fibers such as cashmere, wool, angora, silk, linen and cotton. The collection offers a large range of fabrics - 30 articles and more than 300 color shades - to dress homes, planes, helicopters and private yachts. The high quality luxury fabrics feel and look good, as well as being durable in time. In addition to the traditional Loro Piana cashmere and wool fabrics, the collection offers chevron and linen textures, cotton moleskins and plain shades, shantung and silk velvets and more. In addition to fabrics, the collection includes plaids in pure wool & cashmere in fine colours and shades. The offer is complete and articulated, ready to satisfy the taste and the most demanding requests.