OUR FINEST WOOLS FOR SUITS FROM CLOTH ERMENEGILDO ZEGNA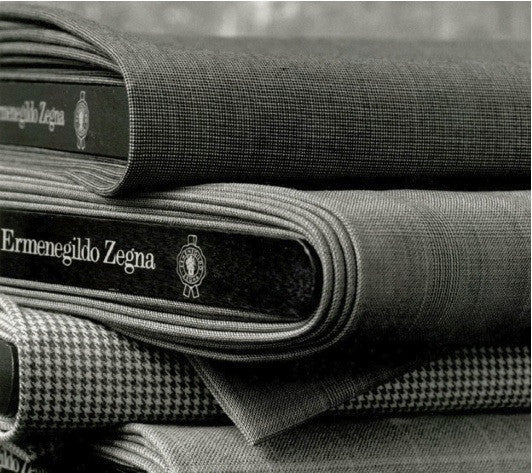 ONLY THE FINEST CLOTHS MAKE THE FINEST CLOTHES
When Katrin Kuldma started with Amanjeda collections, she started collaboration with the finest master tailors from around the globe in 2010, she did so with the intention of tailoring only using the finest fabrics from the world's most renowned mills. One of these luxury fabrics happens to come from the famous Zegna Wool Mill, which produces some of the best luxury menswear fabrics in the industry. As a purveyor of fine materials and craftsmanship, we wanted to take some time to highlight the Zegna fabrics, as more than two thirds of Amanjeda made to measure suits are made of the finest Zegna fabrics.
THE ZEGNA WOOL MILL
Founded in 1910, the Zegna Wool Mill and the Zegna family have been committed to a family-run company that focuses on quality, modern technology, and artisan craftsmanship. Over the last 100 years, the Zegna Wool Mill has focused on innovation and a careful balance of science with nature and craftsmanship with technology to pioneer sophisticated men's fabrics that are lighter, softer, more refined, higher-performing, and more functional. Through their continued efforts to build on tradition, learn from technology, and think ahead for the future, the Zegna Wool Mill has become internationally known for producing the world's finest textiles and setting new fabric standards and construction methods in the men's luxury tailoring and casual industries.
THE FABRIC
The Ermenegildo Zegna wool mill has concentrated mainly on the production of high quality wool, cashmere and mohair fabrics. In other words, the best there possibly could be in the world in terms of noble fibres. These Zegna fabrics differ in terms of the natural raw materials used, and whether they are worsted or woolen.
Worsted Fabrics
Generally cooler and lighter (nearly all fabrics weighing under 250g are worsted)
Have a more satin-like (less "fuzzy") appearance
Are made from longer fibres, which produce finer yarns
Can be high-twisted to increase strength and crease recovery, which gives the fabric a cooler, drier handle.
Woolen Fabrics
Have a bulkier look, and are generally heavier than worsted fabrics
Are made with shorter fibres, which tend to "stick out" from the yarn, giving the fabric its characteristic fuzzy, full and warm appearance
Can be filled and gauzed (brushed) during the finishing stages to make the hair rise from the surface and accentuate volume and softness
Are warmer (not so much because of their weight as the finishes applied to them)
Are used mainly for winter wear
ZEGNA '15 MICRON FABRICS
Over the past half century, the Ermenegildo Zegna Wool Mill's continued efforts to improve raw materials and technical developments has given the market a constant stream of very light fabrics. The names and the numbers associated with them refer to the fineness of the woolen fibre used in the fabrics, respectively 15, 14, and 13 micron (1 micron = 1 thousandth of a millimeter). To appreciate how exceptional this is, one need only reflect that a human hair measures around 50 – 60 micron.  For the Zegna '15 micron fabrics (15milmil15), only selected fibres that are 15 microns in diameter go into these exclusive textiles:
15 MILMIL15 (100% wool) fabric from the Ermenegildo Zegna wool mill. With softness and innate elegance, suits made with this fabric are in perfect harmony with the finest Italian sartorial traditions.
The 15MILMIL15 SILK version (51% silk, 49% wool) is the result of blending the most precious wool with the natural sheen of silk, and is dedicated to those who are particularly fond of extraordinarily lustrous garments.
15 MILMIL15 LINEN (55% linen, 45% wool) is created by blending superfine wools with linen to create a cool fabric ideal for summer. Click here to read about the '14 and '13 Micron fabrics and more through the Zegna Wool Mill.
SUITS MADE WITH ZEGNA FABRICS
When you're ready to own a custom suit that is tailored to your body, make sure your fabrics are right for you, your suit, your performance demands, and your style. Aim for undisputed quality, performance, technology, and style; aim for Zegna fabrics, as they are ideal for luxurious, yet high-performing suits and menswear. For the finest tailoring and craftsmanship of your suit, visit or contact Amanjeda boutique on Kentmanni 6, Tallinn.