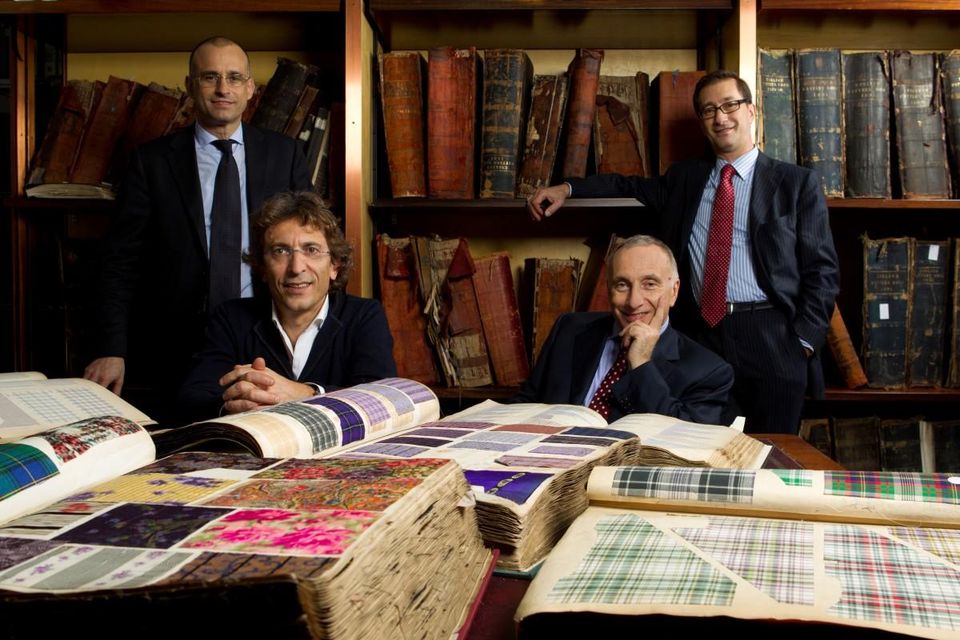 Shirting Mill With 140 Years Of History Is Leading Menswear's Sustainability Effort
Italian textile powerhouse Albini is leading the charge for responsible practices in the industry. 
Albini is a name to know regarding sustainable luxury. The company is a luxury shirting mill in Italy that weaves high-end fabrics primarily for use in luxury menswear. Not only is Albini a key player in the menswear market, but it's also a center for sustainability research, development and proactive change. Shopping of the future is about knowing the backgrounds.
The company was founded in Albino, a small town north of Milan, in 1876 and is now lead by the fifth generation of the family, represented by Silvio, Fabio, Andrea and Stefano Albini. The company employs 1,400 people worldwide and is fully vertically integrated. This means that Albini's production process is overseen internally from beginning to end. Most fabric mills buy raw material from external suppliers or use external specialists to wash and finish their fabrics before shipping them, but Albini owns, and at the very least rents, all the cotton fields it uses, spins and dyes its own yarn, weaves and then finishes its fabrics entirely in-house.
The company's offer currently includes over 20 000 fabrics every year and is capable of satisfying the diverse demands in more than 80 countries.
This complete ownership of the manufacturing process gives Albini significant clout when it comes to sustainability. "We can be completely transparent with brands and consumers," says the company's president, Stefano Albini. "If we weren't fully integrated, we'd have struggled to undertake most of the projects that we've worked through over the past few years."
ALBINI NEXT
Certainly, the company's made a significant amount of progress in a short space of time. In July last year, Albini founded the world's first dedicated textile technology think tank, which today provides a workspace and research facilities to bioengineers, sustainability experts and textile designers. It's called Albini Next, and it's on a roll.
"We're focusing on three main study areas," Albini explains, "the development of natural dyes that require much less water to work with than conventional chemical dyes, recycling in its various forms and traceability projects for all our fabrics." In the eight short months, Albini Next has been active, its innovations include a solution for recycling cotton shirting off-cuts into paper and for up-cycling industrial waste nylon fibers into superfine shirting fabrics.
Albini Next has also undertaken significant work on the company's supply chain, in partnership with Supima Cotton and Oritain's traceability service. The mill now offers fabrics that are fully traceable right down to the field that an individual cotton plant was grown in, and is working hard to increase its use of organic cottons too. "In 2019 we invested directly in the cultivation of organic Supima in the US, to have a direct relationship with our farmers," says Albini. "It's important for us to know that our cotton is truly organic. We're at the start of the chain in the fashion industry — if we don't improve the sustainable credentials of our fabrics, fashion brands can't improve their collections."
These innovations in Albini's operations are only the tip of the iceberg; the mill is also increasing the use of organic linen and natural Tencel (a silk-like fabric made from recycled wood pulp), reducing its energy consumption, recycling wastewater and challenging the use of pesticides to grow natural fibers in America and Egypt. 
"When we launched our organic cotton collection 10 years ago, the market didn't even consider it — we were probably too ahead of the curve back then," says Albini. "Now, brands are starting to respond to our organic products. As a mill, we sell more than fabric; we sell a way of operating within fashion that fully respects the environment and our people. Finally, we're seeing that the men's market is starting to ask for this."
One of the most important thing for Albini is the production of high quality fabrics but they still value and preserve our environment and try to keep their production as sustainable as possible. Albini invests in the reduction of the environmental impact, through continuous improvement of equipment and production methods for a more sustainable future. It is necessary to ensure that all the fabrics produced comply with the relevant regulations and high environmental shared standards. This is why they constantly strive to eliminate the use of dangerous chemical substances by the textile production cycle.
The company's vision reflects a strong interest in gender equality, multiculturalism and the family. In addition, in collaboration with universities and technical colleges referrals, it has privileged the inclusion of young people by launching internships stages and also recruiting. Customers can actually visit the factories, personally verifying the attention and care behind the textile reality of Albini Group. Thanks to personalised training programs, they can become aware of all the production steps from creation to final product realisation.
Each new season four new collections are created, each with different styles: classic, casual, fashion, sports, contemporary. The different themes and creative moods of the collections, always inspired by diverse styles, underline the seasonal trends, enhancing the distinctive aspects of each brand and creating fabrics that inspire fashion houses, retailers and specialised shirt makers. Every single fabric comes to life from the deep study and interpretation of seasonal trends and the research for new sources of inspiration.
One aspect of the research is formed by travel in the world's major fashion capitals with the objective to identify and anticipate the various international trends. But creativity also draws from the past: the historical archives of the Albini Group, made up of more than seven hundred volumes dating back to the nineteenth century, recounts a history of fabrics, colours and amazing designs, and this represents an inexhaustible source of inspiration. 
Amanjeda values and quality principles are meets perfectly Albini's and that is why we have chosen their fabrics for the production of Amanjeda sustainble luxury shirts.